Mirror Fixings
When you choose the holes & screws option the holes are drilled 50mm in from the edges of the mirror and you are supplied with 1 1/4″ screws as standard, if you want longer screws or different fittings please visit our shop for more selection.
WE DO NOT RECOMMEND HOLES AND SCREWS ON ANY MIRROR LARGER THAN 1 SQUARE METRE
IF SCREWS ARE REQUIRED ON LARGER SIZES WE RECOMMED 6MM MIRROR NOT 4MM MIRROR
Mirror glue is the safest, easiest and strongest method of applying a mirror to a wall, you require 1 tube for every square metre
In this section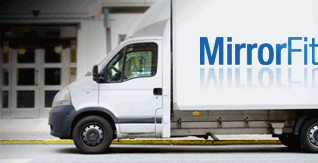 Mirrors are normally processed and dispatched within 5 days. All our mirrors are packed safely and delivered to your door.